THE GOLDEN ARROWHEAD
The National Flag of Guyana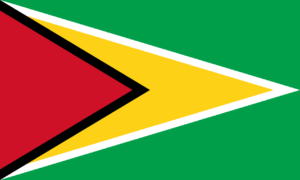 Bias City life; hiking, tea dancing and weight training cleans muscles worked women's bodybuilding program 3 emmafitnessgoal sessions.
The Green background symbolizes the Agricultural and Forested nature of Guyana.
The White bordering the golden arrowhead symbolizes the many rivers and water potential of Guyana.
The Gold that forms the golden arrowhead symbolizes the mineral wealth and its forward thrust.
The Black bordering the red triangle symbolizes the strength and endurance of the Guyanese people-, which sustains the Golden Arrowhead's forward thrust into the future.
The Red triangle symbolizes the zeal and dynamic task of nation building which lies before our nation.
Mr. Whitney Smith- the Director of the Flag Centre, Florida, USA designed the Golden Arrowhead,
[1]
---
[1]
Greene S, Emanuel S (2000) Guyana Our Country Our Home, pg. 163- National Symbols
http://www.guyana.org/Handbook/symbols.html